The first and only 'Elite' Label Road Race event in Indonesia, Maybank Marathon, organized by PT Bank Maybank Indonesia Tbk (Maybank Indonesia), took place on Sunday, 27 August 2023 at Bali Safari & Marine Park, Gianyar Bali from start to finish. More than 13,600 runners from 50 countries enthusiastically participated in the 12th edition of the Maybank Marathon 2023.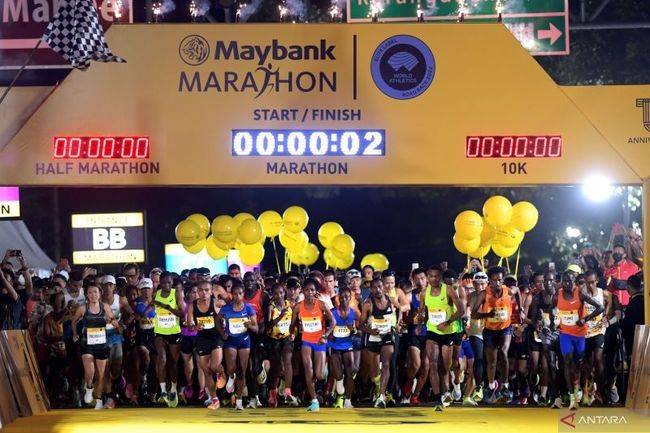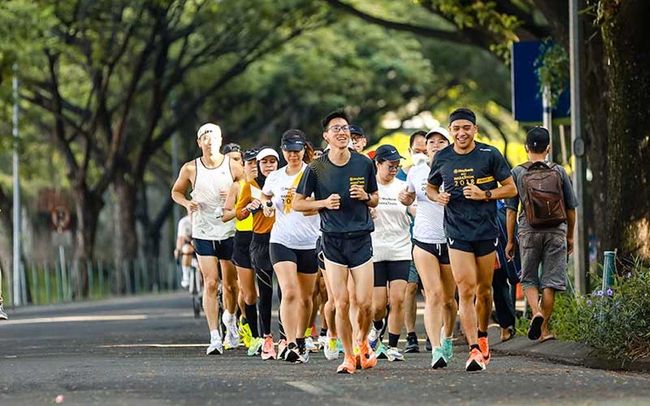 The excitement among participants was palpable across the three categories, particularly during the flag-off moments. The Marathon category was flagged-off at 04:30 AM (Central Indonesia Time Zone/WITA), followed by the Half Marathon at 05:30 AM WITA, and the 10K category at 06:00 AM WITA. Additionally, a flag-off was held for the wheelchair category at 06:15 AM WITA, participated by 50 wheelchair runners.
As midday approached, the organizing committee of Maybank Marathon 2023 announced the race winners and concluded the series of events for the 'Elite' label road race endorsed by World Athletics. Maybank Marathon 2023, aptly called the 'feast' for runners, presented a total prize pool of IDR 2.7 billion for 86 winners, including record-breakers.
The press conference event at the Race Village Bali Safari & Marine Park unveiled the race winners of the Maybank Marathon 2023. In the Marathon Open Male category, Geoffrey Kiprotich Birgen from Kenya, bib number 10215, clinched victory with an outstanding record time of 02:15:04. Similarly, in the Marathon Open Female category, Sophy Jepchirchir, also from Kenya and bib number 22, secured first place with a remarkable record time of 02:31:04.
Both runners' record times broke the current threshold of 02:28:00 for Marathon Open Male and 02:33:00 for Marathon Open Female categories. These exceptional first-place finishers received cash prizes of IDR 240,000,000 each, with additional bonuses of IDR 33,750,000 and IDR 67,500,000 for breaking the records, respectively.
Furthermore, the Marathon National Male category won by Nurshodiq, bib number 21288, claiming victory with an impressive record time of 02:30:24. In contrast, Irma Handayani, bib number 21566, triumphed in the Marathon National Female category, clocking in a noteworthy record time of 03:01:44. Each of these first-place winners received cash prizes amounting to IDR 100,000,000.
The achievements of these exceptional athletes underscore the Maybank Marathon's commitment to promoting excellence and athleticism on both national and international level. Maybank Indonesia extends its congratulations to all winners for their remarkable performances.
Symbolically the prizes were handed over by President Director of Maybank Indonesia, Taswin Zakaria, to the Maybank Marathon 2023 winners.
Taswin, who actively participated in the Half Marathon category earlier that morning, expressed gratitude for the resounding success of the Maybank Marathon 2023 event. He extended his heartfelt appreciation to all stakeholders who contributed to the execution of the 'Elite' label road race, Maybank Marathon 2023.
"On this occasion, we congratulate all participants who have triumphed and earned rewards from this year's 'Elite' label road race, the Maybank Marathon. We hope that these achievements inspire all running enthusiasts to strive for similar accomplishments in the future," Taswin remarked.
Regarding the event's conceptual and execution excellence, Taswin conveyed his positive impression of the enthusiasm displayed by thousands of participants who eagerly prepared themselves in the early morning hours to run on the distinctive running track of the Maybank Marathon 2023. Taswin emphasized that the Maybank Marathon is not only about the quantity of participants but also places paramount importance on the safety and comfort of the runners.
Furthermore, Taswin emphasized the company's dedication to continuously enhancing the Maybank Marathon event's quality. As the event has attained the status of an 'Elite' label road race endorsed by World Athletics, it has positioned both the Maybank Marathon and Indonesia in the global stage of athletic competition, particularly the marathon run.
"On behalf of the entire Maybank Marathon 2023 organizing committee, we extend our gratitude to the participants for their disciplined participation and to the field staff, including the security teams, medical personnel, pacers, and marshals, who vigilantly supervised the entire route. Moreover, the engagement of the local community, consistently cheering on the runners throughout the Maybank Marathon 2023 route, created an even more exhilarating race atmosphere," Taswin elaborated.
The success of Maybank Marathon 2023 was bolstered by the collaborative efforts of various entities, including the Bali Provincial Government, Bali Provincial Police, Indonesian Red Cross (Palang Merah Indonesia) Bali Branch, Gianyar Regency Government, Gianyar District Military Command 1616, the Indonesian Athletic Association (PASI), sponsors, and media partners.
Maybank Marathon 2023 owes a significant part of its success to the unwavering support of its esteemed sponsors. This remarkable event was made possible through the valuable contributions of Aqua, Bali Safari & Marine Park, Etiqa, New Balance, Pocari Sweat, BMW, Herbalife, Extra Joss, Kahf, Rexona, Garmin, Traveloka, Bali Island School, Indofood Ice Cream, Taman Bhagawan, Bali Hai, YAMAtune, Atlas, Optik Tunggal, Rintis, Fitbar, Salonpas, Rejuve, Biznet, Gambino, Shokz, Cardea, Salomon, Plataran, Ibis Bali Benoa, Prama, and RS Kasih Ibu.
Furthermore, the Maybank Marathon 2023 received support from a select group of media partners, including Metro TV, Jawa Pos, Tribunnews, Gatra, Kumparan, The Jakarta Post, Tempo, and other renowned media outlets across Indonesia.
Stay updated on Maybank Marathon in Bali through the following channels:
– Website: www.maybankmarathon.com
– Instagram: @maybankmarathon
– Facebook: Maybank Marathon
– Twitter: @maybankmarathon
About Maybank Marathon
Maybank Marathon is an international-level marathon race organized by PT Bank Maybank Indonesia, Tbk. ("Maybank Indonesia") since 2012, which has competed in marathon events with a distance of 42.195 km, half marathon (21.0975 km), and 10K (10 km). Various awards have been won by Maybank Marathon, including one of eleven "Remarkable Races in the World that One Must Participate Before You Die" by the Active, one of "the 52 Best Races on Earth 2016" by Runner's World, Best Marathon 2016, Best Half-Marathon 2015, and the Most Popular Sports Event 2018 by the Venue magazine.
In 2020, Maybank Marathon won the 'Elite' label road race certification from the athletics body that regulates, supervises, and certifies the organization of marathons worldwide, World Athletics or formerly IAAF. In addition, the Maybank Marathon is also part of the qualifying event for the World Championship marathon series Abbott World Marathon Major ("Abbott WMM") Wanda Age Group World Rankings. It is one of the qualifying races for the Boston Marathon. Maybank Marathon 2019 is a qualifying National Sports Week ("PON") event in Papua in 2021.
Various awards have been won by Maybank Marathon, including one of eleven "Remarkable Races in the World that One Must Participate before you die" by the Active, one of "The 52 Best Races on Earth 2016" by Runner's World, Best Marathon 2016, Best Half-Marathon 2015, and the Most Popular Sports Event 2018 by theVenue magazine. More: www.maybankmarathon.com.
About Maybank Indonesia
Maybank Indonesia is one of the leading banks in Indonesia and is a part of the regional and international network of the Maybank Group. Maybank Indonesia provides a comprehensive range of products and services for individual and corporate customers through Community Financial Services and Global Banking and automotive financing through subsidiaries, WOM Finance for two-wheeled vehicles and Maybank Finance for four-wheeled vehicles. Maybank Indonesia also continues to develop Digital Banking services and capacity through M2U (App and Web), M2E for corporate customer and other various channels.
As of June 2023, Maybank Indonesia has 339 branches, including Shariah branches spread across Indonesia, including one overseas branch in Mumbai, India, 22 Mobile Branch and 855 ATMs (including 26 Cash Recycle Machines/CRMs) connected with over 20,000 ATMs available through ATM PRIMA, ATM BERSAMA, ALTO, CIRRUS, and connected to 3,500 Maybank ATMs in Singapore, Malaysia and Brunei. Maybank Indonesia manages customer deposits amounting to Rp110.38 trillion and has total assets value of Rp165.62 trillion as of June 2023. Visit: www.maybank.co.id.
For further information:
Dimas Tjahjono Dradjat
Head, Communications
Email: ccommunications@maybank.co.id
Telp: +6221 2922-8888