Global renewable energy developer, service provider and solar distributor, BayWa r.e announced the successful completion and handover of the Khau Dang Commune Cultural House in Lang Son Province, Vietnam. This exemplifies BayWa r.e.'s unwavering dedication to actively supporting and enriching the communities in which it operates, as well as nurturing enduring relationships with the community it serves.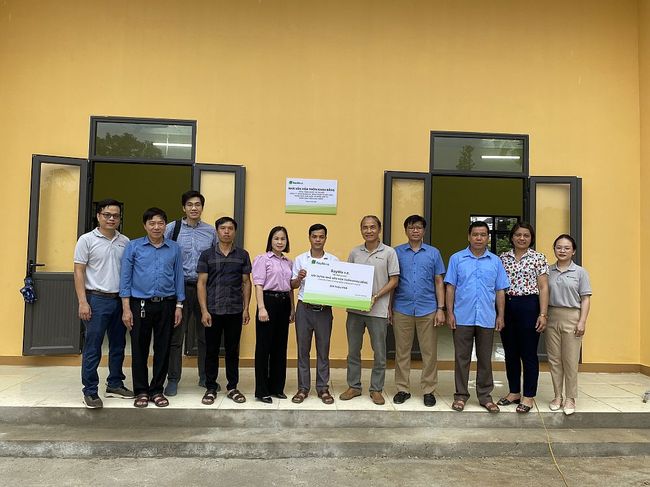 BayWa r.e., in close collaboration with the Van Quan district people's committee, supported the construction of the commune cultural house located at Khau Dang hamlet, Trang Cac Commune. The new commune cultural house will be able to foster community cohesion, facilitate annual general meetings and accommodate diverse activities, benefitting 500 people in more than 94 households, mostly Tay and Nung people who belong to the ethnic minority group.
The 360 square metre (m2) facility is a substantial increase from the previous culture house, which could only host 25 individuals. The project started construction in March 2023 and was officially handed over on 6 June 2023.
Nam Le, General Manager, BayWa r.e. Vietnam, said, "The commune cultural house would never have been realised if not for the continuous efforts made by the local district and villagers in overseeing this project. BayWa r.e. is committed to addressing the needs of the locals through regular communication and consultation with the local authorities and communities to ensure that all voices are heard. Vietnam is an important market for us, and we believe that we should not only build facilities for environmental sustainability, but we should also focus on creating long-lasting relationships within and with the local communities."
Chu Tien Hoang, Chairman of Trang Cac Commune People Committee, said, "We would like to thank BayWa r.e. for the precious support to our community. The new commune cultural house will encourage residents in the Khau Dang Village to organise cultural, sports and entertainment activities, helping them to bond and improve their quality of life with recreational activities. This initiative also meets the needs of the Vietnamese government's National Targeted Program on New Rural Development under criteria six, cultural facilities, where we can hold larger events for the entire commune."
The Khau Dang Commune Cultural House is the fourth project targeting the residents in the Lang Son province since 2021. In two years, BayWa r.e. built two sanitation facilities for two local primary schools in the Loc Binh district and supported the Cao Loc district's initiative to recognise top-performing students and teachers by awarding scholarships, prize money and school bags.
BayWa r.e. has been active in developing large-scale wind energy developments in Vietnam, viewing the technology as a key enabler in the country's renewable energy push. The company currently has a 240MW portfolio of wind energy across sites in northern Vietnam and is fully committed to facilitating Vietnam's ambition of becoming net-zero by 2050.
BayWa r.e. AG (BayWa r.e.):
At BayWa r.e. we r.e.think energy – how it is produced, stored and can be best used to enable the global renewable energy transition that is essential to the future of our planet.
We are a leading global developer, service supplier, distributor and solutions provider and have brought over 5 GW of energy online and manage over 10 GW of assets. We are also an Independent Power Producer with an expanding energy trading business.
BayWa r.e. works with businesses worldwide to provide tailored renewable solutions. Operating 100% carbon neutral, we are also committed to our own sustainability journey.
Every day, we are working hard to actively shape the future of energy in a diverse, equitable and inclusive workplace.
Our shareholders are BayWa AG, a EUR27.1 billion global business, and Energy Infrastructure Partners, a leader in energy infrastructure investment. Visit https://www.baywa-re.com/en/.
Contact information:
PRecious Communications for BayWa r.e. AG
Li Wen Tan
Tel: +65 6303 0567
Email: baywa-re@preciouscomms.com
BayWa r.e. AG
Salim Pathan
Marketing Manager, APAC
Tel: +66 62 698 7162
Email: salim.pathan@baywa-re.com
Mark Cooper
Corporate Communications
Tel: +49 89 383932 3611
E-mail: mark.cooper@baywa-re.com