Indonesia Climate Exchange (ICX) and Dynamik Technologies Brunei Darussalam have entered a strategic partnership to establish a regional carbon market for the Borneo Economic Community. This collaboration aligns with ASEAN's big plan for integration in developing a green economy in the 5 pillars of ASEAN BAC. This plan manages 3 of the 5 priority pillars: Digital Transformation, Sustainable Development and Trade & Investment Facilities.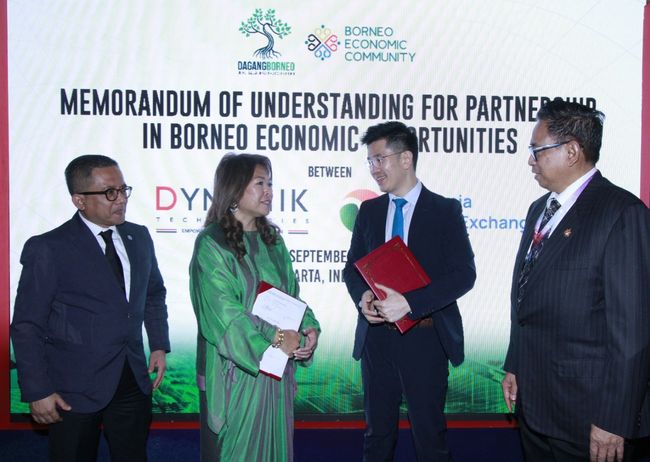 The signing of this collaboration, which was signed by Megain Widjaja, CEO of the Indonesia Climate Exchange (ICX) and Puan Haslina Taib, CEO of Dynamik Technologies, took place in Jakarta on Tuesday 5 September 2023.
The collaboration integrates ICX trading technology and Dynamik Technologies for a carbon trading platform and other climate instruments. This aims to harmonise trading standards and technological interoperability to create a credible regional market and carbon credits that can be transacted inclusively. In the ASEAN regional plan, carbon markets and climate instruments have an important role in efforts to reduce emissions.
ICX CEO Megain Widjaja said, "This collaboration is certainly an honour for ICX because it is a matter of trust from Brunei Darussalam. This integration between countries certainly strengthens the synergy of the Borneo Economic Community by creating a green economic cluster, especially for the regional carbon market."
The Borneo Economic Community aligns with the plan for the National Capital of the Archipelago to be located in Borneo. IKN Nusantara was built based on the green city ideology, where the infrastructure supporting the economy is built by considering sustainability factors, harmonization with the environment and renewable energy sources. The need to balance emissions in Borneo is a priority for the countries on the island.
Puan Haslina Taib, CEO of Dynamik Technologies said, "Recognizing the Heart of Borneo and the potential for Borneo to be the global hub for the world's green economy, the creation of a regional carbon market through modern trading technology platforms will enable and facilitate businesses in the region to easily participate and access the carbon market."
Megain Widjaja added, "Of course, this is just the beginning of the many collaborations that will be carried out in the ASEAN region. We are happy to start earlier and at the same time proud that Indonesian technology can be integrated globally. We hope this effort can support the big plans of other ASEAN countries in reducing Nationally Determined Contribution (NDC) emissions and as proof that cooperation between ASEAN countries can embody the spirit of making ASEAN the Epicentrum of Growth."
About Indonesia Climate Exchange:
Indonesia Climate Exchange, a part of the ICDX Group, was established to aid the government's mission of decreasing carbon emissions. It specializes in trading climate instruments and aims to make decarbonization accessible for all industry participants through convenient transactions, diverse product options, and transparent accountability. Using Indonesia Climate Exchange services enables businesses to seamlessly transition to low-carbon operations. Visit https://www.climate-x.id.
About Dynamik Technologies:
Dynamik Technologies is a leading IT Company in Brunei that thrives in improving service efficiency through citizen and customer-centric systems. Dynamik Technologies is committed to helping deliver digital transformation initiatives supported by a team of highly skilled & globally certified IT professionals in programming, business process re-engineering, data analytics, and infrastructure. Brunei Officials trust Dynamik Technologies for many projects and it is the first and only organization in Brunei with Capability Maturity Model Integration (CMMI) appraisal. Visit: https://www.dynamiktechnologies.com.bn.
For further information:
P Giri Hatmoko, Head of Corporate Communication, Indonesia Climate Exchange.
Midpoint Place, Lt.22-23 Jl. H. Fachrudin No.26 Jakarta Pusat Phone : +62-21 3002778
Faizul Yahya, Marketing Communication, Dynamik Technologies.
Level 7, Design & Technology Building, Anggerek Desa Tech Park, Spg. 32-37, Kg. Anggerek Desa, Berakas BB3713 Negara Brunei Darussalam Phone: +673 238 2238