Signing in the presence of the Indonesian and Tanzanian Presidents, in Dar Es Salaam, Tanzania
Tanzania Electric Supply Co. Ltd. (TANESCO), a parastatal company incorporated in 1931, has adopted a business transformation implemented by Indonesian state-owned electric company PT PLN (Persero). Aiming to carry out similar developments in Africa, TANESCO agreed to a business cooperation with PLN.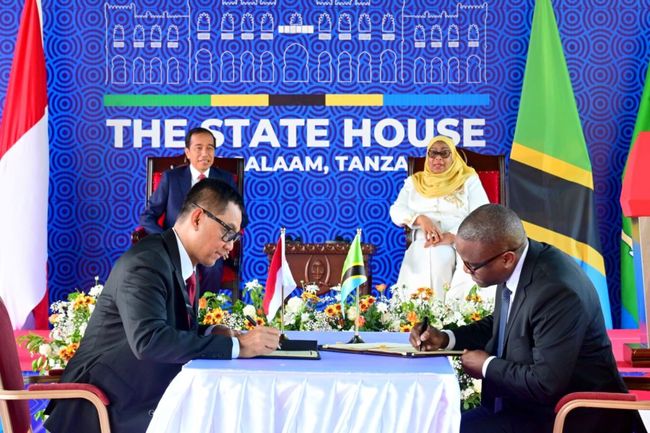 The agreement was marked by the signing of a Memorandum of Understanding (MoU) between President Director of PLN, Darmawan Prasodjo and Managing Director of TANESCO, Maharage Chande, in the presence of Indonesian President, Joko Widodo and Tanzanian President, Samia Suluhu Hassan in Dar Es Salaam, Tanzania, on August 22.
The signing of an MoU between PLN and TANESCO signifies a significant milestone in the field of international business cooperation. This agreement entails the adoption of PLN's successful business transformation model by TANESCO, ultimately demonstrating PLN's intention to expand its presence in the global market.
President Director of PLN Darmawan Prasodjo explained that the MoU was a follow-up to a previous meeting in Jakarta on February 10, 2023, with Tanzania's Minister of Energy, January Makamba and TANESCO Management, regarding a cooperation with Indonesia in developing Tanzania's electricity sector ecosystem.
Darmawan added the MoU specifically outlines four key areas of collaboration. First, it highlights the importance of digital-based transformation, indicating a joint effort to embrace technology and innovation to enhance efficiency and reliability in power supply services, such as Digitalized Power Plant, Digitally Enabled Distribution Excellence, and Super App utility.
Secondly, the MoU emphasizes the development of the core utility business which includes which includes Maintenance, Repair, and Operation (MRO), and Collaborative Co-investment.
The third point of cooperation focuses on the development of non-core utility businesses such maintenance, repair, and operations (MRO).
Finally, the MoU highlights the importance of capacity building and comprehensive exchange through an internship program between PLN and TANESCO. This initiative aims to facilitate knowledge transfer and skill development between the two companies, fostering a culture of mutual learning and growth.
"PLN has experiences and success stories that can be shared and implemented in Tanzania, especially in terms of human resource management, transformation and digitalization in the electricity sector. For this reason, we will do our best effort in this cooperation, because PLN's success will also be an achievement for Indonesia," Darmawan said.
Managing Director of TANESCO, Maharage Chande said the business transformation steps taken by PLN can be adopted by TANESCO to make the electricity system in East Africa, especially Tanzania more reliable and sustainable. This cooperation is also to achieve a common goal towards Net Zero Emission (NZE).
"PLN is a very well-known electricity company in the global arena. This cooperation opens up opportunities for business expansion and also strengthens bilateral relations between the two countries as well as between companies," said Maharage Chande.
Overall, the signing of this MoU not only solidifies the partnership between PLN and TANESCO but also underscores the importance of international collaboration in the field of energy. By leveraging PLN's successful business transformation model, TANESCO aims to enhance its operations and service delivery, ultimately contributing to the economic growth and development of Tanzania.
About PLN
PT PLN (Persero) is a state-owned electricity company that continues to be committed and innovative in carrying out a mission to illuminate and move the nation. With a vision to become the leading electricity company in Southeast Asia, PLN is moving towards becoming the number one choice for energy solutions. PLN is committed to transformation with aspirations of being Green, Lean, Innovative, and Customer Focused to provide electricity for a better life. PLN can be contacted through the PLN Mobile application available on PlayStore or AppStore. https://web.pln.co.id/
Contact:
Gregorius Adi Trianto
Executive Vice President, Corporate Communications & CSR, PLN
Tel. +62 21 7261122
PT. Perusahaan Listrik Negara (Persero) [IDX: PLN]