Q&M Free Dental Clinic Limited, a registered charity under the Commission of Charities, has opened its first Q&M Free Dental Clinic in Chai Chee dedicated to delivering essential dental treatment for underprivileged individuals and families in need.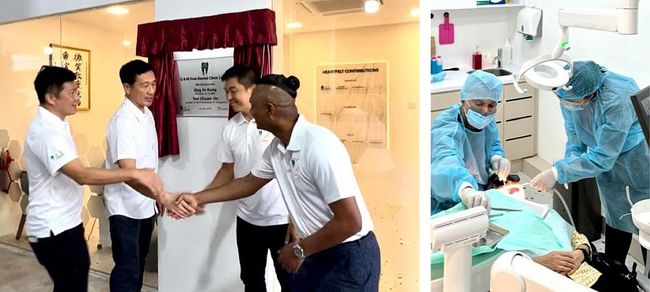 The opening ceremony at 26 Chai Chee Rd was witnessed by Guest-of-Honour Ong Ye Kung, Minister for Health; and Tan Chuan-Jin, Speaker of Parliament, and Adviser to Marine Parade GRC Grassroots Organisations (Kembangan-Chai Chee).
In its first phase of operations, the free clinic will be staffed by more than 50 volunteer dentists from Q&M Dental Group, on a rotational basis and is expected to serve up to 1,400 patients each year. Eligible patients will be initially referred by grassroots organisations within Kembangan-Chai Chee Division and will receive free dental consultation and treatments that are essential to oral health, such as scaling and polishing, fillings, and extractions.
Mr Tan Chuan-Jin, Speaker of Parliament, and Adviser to Marine Parade GRC Grassroots Organisations (Kembangan-Chai Chee), said, "In Kembangan-Chai Chee, preventive healthcare has been an essential pillar of our social initiatives, besides food security and education. While we have made inroads with health screening, vaccinations, and general health management, we realise that oral health has often been overlooked, especially for our underprivileged residents.
"Hence, the idea of a free dental clinic was mooted over lunch with Dr Ng and I in August 2021 and we are grateful to have Q&M Dental Group partnering with us in this meaningful journey. This initiative is also timely as it fits perfectly into our nationwide Preventive Healthcare Program – Healthier SG," he added.
Dr Ng Chin Siau, Group CEO of Q&M Dental Group said, "With the continued support of our generous donors and volunteer staff, we aim to ramp up the current capacity to serve up to 5,000 patients per year in the free clinic's next phase of operations, in line with our goal to make dental care accessible to all."
Q&M Dental Group led the fundraising efforts to fully equip and set up the free dental clinic, donating S$500,000 to fund the initial costs of renovations and equipment. In total, close to S$1 million was raised together with the support of other key donors including Quan Min Holdings, Straumann, Belmont, Prof Hwang Yee Cheau, Madam Kong Siew Yin, Ng Kok Mee, Navi Corporate Advisory Pte Ltd and Dr Ng Chin Siau, in his personal capacity.
"The generosity of our donors will make a lasting impact on the lives of the underprivileged, providing essential dental care for them and creating a healthier community overall. We look forward to collaborating with other stakeholders to reach out to more patients in need and galvanise the medical community to contribute their expertise and resources to ensure everyone has access to essential healthcare services," added Dr Ng.
Dr Mohanarajah s/o S. Senathirajah, Chairman of Q&M Free Dental Clinic Limited, said, "We are really excited to launch the Q&M Free Dental Clinic knowing that we will make a meaningful contribution in the lives of the underprivileged amongst us. This initiative marks the latest milestone in our longstanding commitment in giving back to society, and what better way than to contribute our professional expertise in a sustained manner to help those in need."
Q&M Dental Group was recently awarded The President's Certificate of Commendation (COVID-19) for its contributions during the pandemic which include Q&M Dental Group volunteers, comprising of dentists and nurses administering swabbing procedures to migrant workers at factory-converted dormitories and government quarantine facilities, donating 200,000 medical grade surgical masks to 51 migrant worker dormitories and setting-up satellite Covid-19 testing facilities throughout its island-wide clinic network.
Q&M Free Dental Clinic
To donate and find out more, please visit: www.qmfdc.sg
Media contacts:
Q&M Dental Group
Jess Chang, jess@qnm.sg, +65 8388 6240
Lloyd Chan, lloydchan@qnm.sg, +65 9385 5702
Waterbrooks Consultants
Wayne Koo, wayne.koo@waterbrooks.com.sg, +65 9338 8166
Elliot Siow, elliot@waterbrooks.com.sg, +65 8375 0417