The Republic of Indonesia Satellite (SATRIA-1) successfully lifted off on Sunday at 18:21 local time from the Cape Canaveral Space Launch Complex 40 (SLC 40) in the US, intending to increase internet coverage for the disadvantaged, frontier, and outermost (3T) regions.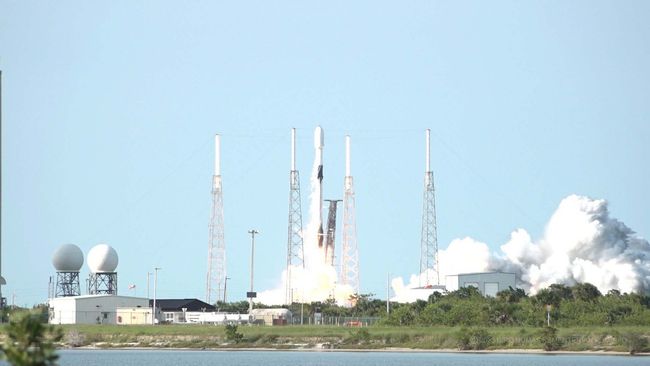 The satellite launch is an effort to equalize development and include the Indonesian public in the digital economy with the provision of internet in the 3T regions and in the country. SATRIA-1 will cover the entire Indonesian territory, including remote areas.
"This first Indonesian satellite, SATIRA-1, aims to distribute internet access evenly, particularly for purposes of education, medical, public services, the military and the police force," acting Communication and Informatics minister Mahfud MD said here on Monday.
The satellite was launched using American-based private spacecraft manufacturer and launch company Space X's Falcon 9 rocket. The launch runs for about ten minutes and SATRIA-1 will head to the orbit point at 146O of East Longitude.
"It was a great achievement and success, thanks to the support of all Indonesian people," the acting president director of Telecommunication and Information Accessibility Agency (BAKTI), Arief Tri Hardiyanto, said at Kennedy Space Center, Florida after the launch of the first internet satellite owned by the Indonesian government.
After arriving at the orbit, PT Pasifik Satelit Nusantara (PSN) along with Thales Alenia Space (TAS) will conduct In-Orbit Testing of the satellite for three weeks to ensure the function of the satellite. The next phase of the satellite operating series is the In-Orbit Acceptance Review (IOAR) which is scheduled to be held in the first week of December 2023.
The Ministry of Communication and Informatics (KOMINFO) will monitor SATRIA's internet service quality. It hopes Indonesians will be able to utilize the internet capacity of SATRIA-1 gradually starting in January 2024.
SATRIA-1 has been built by the government since 2019 to provide equal internet access in public facilities, specifically in the 3T regions. According to the ministry's latest study in 2023, the 150-Gbps capacity SATRIA-1 will provide expanded broadband coverage to 50 thousand public facility points in 3T regions connected to the internet.
It will provide equal internet access for public facilities in 3T regions, such as schools, hospitals, community health centers, village offices, and sub-district offices, as well as security services. The internet speed in each of these points will reach 4 Mbps, which is four folds higher than the previously projected speed of only 1 Mbps for every point in 2018.
In addition to SATRIA-1, the ministry will launch Hot Backup Satellite (HBS) in the third quarter of 2023. The Communication and Informatics Ministry stated that satellites are the best and quickest choice for equitable internet distribution in Indonesia.
Adimas Raditya FP, Mecca Yumna, Editor: Yuni Arisandy Sinaga (c) ANTARA 2023