Business leaders gather in Hong Kong to share views on global outlook
The 16th Asian Financial Forum (AFF) kicked off today on a positive note, attracting over 1,000 participants on day one, including more than 100 global leaders and officials invited as speakers and 19 delegations from Mainland China and overseas. This was also reflected in the results of a poll conducted at the event, in which close to 70% of respondents indicated a neutral to positive sentiment towards the global economic outlook.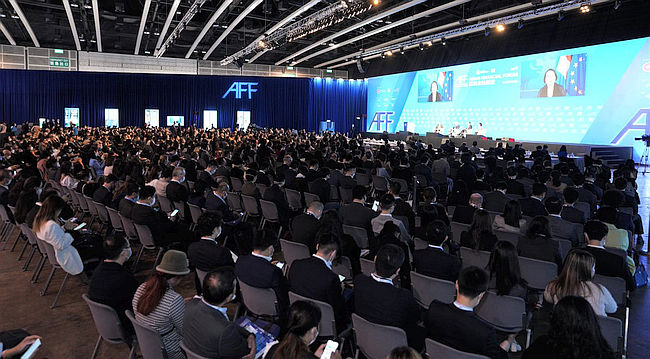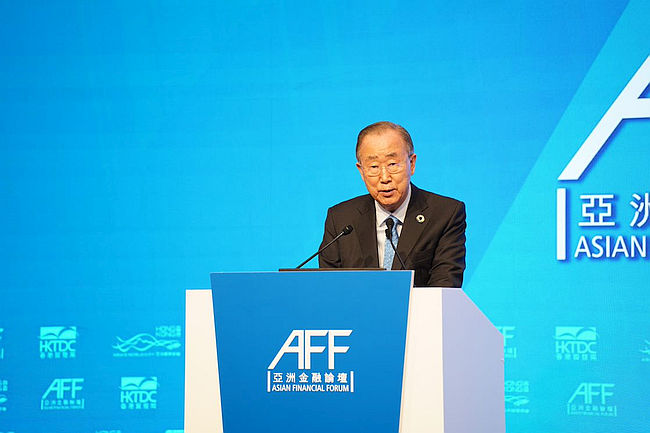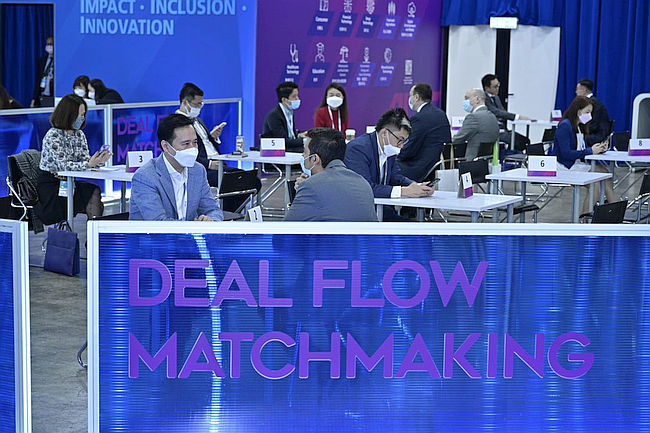 This year's Forum, themed Accelerating Transformation: Impact – Inclusion – Innovation, comes hot on the heels of the resumption of quarantine-free travel between Hong Kong and Mainland China, along with Hong Kong's international business travel returning to normal.
After two years of being held in virtual format, the two-day event, co-organised by the Government of the Hong Kong Special Administrative Region (HKSAR) and the Hong Kong Trade Development Council (HKTDC), returned in physical format, in addition to being available online.
The Forum was officiated by HKSAR Chief Executive Mr John Lee. HKTDC Chairman Dr Peter K N Lam also delivered his welcome remarks: "The Forum is the first flagship financial event held in hybrid format to kick-start the new year. Hong Kong has long been a leading global financial centre, and the global financial leaders' visit to Hong Kong solidifies our important role in the region and the world at large. Global cooperation has become more important than ever. Our collective aim is to stimulate growth, and if we join hands, we can do just that in this new normal we operate in."
The AFF opened with a plenary session hosted by Christopher Hui, Secretary for Financial Services and the Treasury of the HKSAR. The panelists included Ms. Yuriko Backes, Minister of Finance, Luxembourg; Dr Benjamin Diokno, Secretary, Department of Finance, Philippines; Dr Zamir Iqbal, Vice President, Finance and CFO, Islamic Development Bank; Mr Jin Liqun, President and Chair, Asian Infrastructure Investment Bank; Mr Ahmed Saeed, Vice President for East Asia, Southeast Asia and the Pacific, Asian Development Bank; Mr Jean-Paul Servais, Chairman, International Organization of Securities Commissions (IOSCO) and Chairman, Financial Services and Markets Authority (FSMA Belgium); Mr Arkhom Termpittayapaisith, Minister of Finance, Thailand and Dr Tao Zhang, Chief Representative, Representative Office for Asia and the Pacific, Bank for International Settlements.
At the policy dialogue, Mr Arthur Yuen, Deputy Chief Executive of the Hong Kong Monetary Authority, chaired a panel featuring Mr Otavio Damaso, Deputy Governor for Regulation of the Central Bank of Brazil; Dr Dong He, Deputy Director of Monetary and Capital Markets Department of the International Monetary Fund; Ms Verena Ross, Chair of the European Securities and Markets Authority; and Hiroto Uehara, Deputy Director-General of the Bank of Japan.
Real-time polling conducted during the Forum gauged participants' views on a broad range of subjects. When asked about the major challenges facing global growth in 2023, 60% of participants believe that the intensifying geopolitical risks will pose the biggest threat. 29% of participants believe the continued tightening of monetary policy will be the biggest risk, apart from cyber breaches and security risks (3%) and high corporate debt restraining business investment (8%). When asked about the possibility of innovation and technology bringing more benefits than risks to growth, 87% of participants said it was very likely or likely.
Ban Ki-Moon on multilateralism in a fraught world
At the keynote luncheon on the first day moderated by Mr Ronnie C. Chan, Chairman of Hang Lung Properties, Mr Paul Chan Mo-po, Financial Secretary of the HKSAR and Mr Huang Zhaohui, CEO and Chairman of the Management Committee of the China International Capital Corporation, delivered remarks. The luncheon also featured Mr Ban Ki-moon, eighth UN Secretary-General, as the keynote speaker. In his speech, he stated: "COVID-19, climate change and other global crises have underlined our fundamental interconnectedness. These events have also made it clear that we need global solutions to holistically address the enormous challenges that we are now facing. The UN Sustainable Development Goals and Paris Climate Agreement provide humanity with a collaborative blueprint to ensure the future that we want, while leaving no one behind. To achieve this noble goal, all stakeholders, including financial and business leaders, should strengthen cooperation, innovation, engagement and action. We can harness this time of uncertainty to pave the way towards a more sustainable, healthy and prosperous world for all."
In addition, financial and business leaders also attended sessions that explored prospects for the global economy. In her speech, Ms Valerie Baudson shared : "Speaking about 2023, I think there will be three factors, which will determine the global outlook. The first one is the Central Bank's policy with inflation, which starts to decrease. The second one, the energy crisis and the way the European governments will go on managing them, and the third one is of course the Chinese reopening, which will be very important for global growth". Gu Shu opined that: "The world economy is facing multiple challenges, but it is in better shape compared to that of the last few years. We have experienced sluggish trade and investment, high inflation, and disrupted global supply chains. This year downward pressure remains, but we believe inflation in major economies will start to come down. Growth rate may not be fast, but still in positive territory. We see opportunities coming from green transition and digitization. We call for countries to make concerted efforts to normalize the global economy."
In the afternoon, the inaugural Global Spectrum, Dialogue for Tomorrow and Fireside Chat sessions analysed social trends that impact our future, including financial innovation, healthcare and impact investing, and highlight opportunities and challenges facing start-ups in the Guangdong-Hong-Kong-Macao Greater Bay Area (GBA), and the potential of non-fungible tokens (NFTs) and digital collectables to drive the digital economy.
In view of the growing importance of Environmental, Social and Governance (ESG) among corporates and investors, the HKTDC and PwC presented a joint research paper on "Financing the Corporate Transition to a Sustainable Future" at the AFF. Mr Raymund Chao, Asia Pacific and China Chairman of PwC, shared the findings: "It was a great opportunity for us to partner with HKTDC to release our joint research study today at the Asian Financial Forum. Our survey, which centred around ESG transformation, pointed to a number of challenges and opportunities facing local corporations in delivering meaningful results on their ESG journey and effectively financing their ESG initiatives. Businesses need to embrace a game-changer mindset, while working together with all levels of stakeholders to build trust and drive sustained outcomes in this space. As policymakers bring additional focus to ESG, along with higher C-suite awareness, we believe this will not only further Hong Kong's development in green finance, but will also propel the world forward towards a sustainable future."
Providing connections for investors
The AFF Deal Flow Matchmaking Session, co-organised by the HKTDC and the Hong Kong Venture Capital and Private Equity Association, have returned in physical format. More than 600 matchmaking meetings are expected to be held. While the sessions take place in-person on 11 and 12 January, they continue online until 17 January, allowing investors and project owners more time to connect and explore collaboration opportunities. Representatives from a variety of industries will participate in this much-anticipated session, ranging from deep technology, digital technology and media, and medical technology to education, infrastructure and real estate services.
The Forum continues to provide a platform facilitating projects and business matching among global finance and trade institutions. For instance, the Indonesian Real Estate Developers Association (REI) and Institution of Public Private Partnerships in Hong Kong signed a memorandum of understanding on the first day of AFF to strengthen collaboration in infrastructure. Yedpay, an exhibitor in the Forum's FinTech Showcase, also joined hands with global financial institutions and local universities at the event to launch a collaboration framework on jointly developing various payment technologies.
Two women leaders delivering keynote addresses tomorrow
The AFF will continue to feature stimulating and thought-provoking sessions tomorrow, including a keynote speech in the morning on the promotion of climate change delivered by Ms Christiana Figueres, former Executive Secretary of the United Nations Framework Convention on Climate Change, and Co-founder of Global Optimism. Ms Helen Clark, former Prime Minister of New Zealand, will join the keynote luncheon as a guest speaker to share her experiences as an influential global leader and her mission to promote a diverse and inclusive culture.
There are over 20 workshops and panel discussions on a myriad of topics, such as sustainable development and ESG, green finance, inclusive capital markets, family office challenges, digital Reminibi and innovative technology development. Highlighted speakers include Dr Norman Chan, Chairman of RD Wallet Technologies / RD ezLink; Mr Charles Li, Founder and Chairman of Micro Connect; Dr Feng Xiao, Chairman of HashKey Group; Dr Giovanna Graziosi-Casimiro, Head of Metaverse Fashion Week of Decentraland and Mr Sebastian Fahey, Executive Vice President and Managing Director, EMEA and Executive Lead of the Metaverse at Sotheby's.
The HKTDC is providing a variety of exclusive travel, food and hotel discounts for overseas delegates, to enrich their stay in Hong Kong beyond the two-day Forum. For details, please visit: https://bit.ly/3Gv9xt6
Websites
– Asian Financial Forum: https://www.asianfinancialforum.com/aff/en/
– Programme: https://www.asianfinancialforum.com/conference/aff/en/programme
– Speakers List: https://www.asianfinancialforum.com/conference/aff/en/speaker
– HKTDC Media Room: http://mediaroom.hktdc.com
– Photo Download: https://bit.ly/3vRBnem
About HKTDC
The Hong Kong Trade Development Council (HKTDC) is a statutory body established in 1966 to promote, assist and develop Hong Kong's trade. With 50 offices globally, including 13 in Mainland China, the HKTDC promotes Hong Kong as a two-way global investment and business hub. The HKTDC organises international exhibitions, conferences and business missions to create business opportunities for companies, particularly small and medium-sized enterprises (SMEs), in the mainland and international markets. The HKTDC also provides up-to-date market insights and product information via research reports and digital news channels. For more information, please visit: www.hktdc.com/aboutus. Follow us on Twitter @hktdc and LinkedIn.
Media enquiries
Yuan Tung Financial Relations:
Tiffany Leung, Tel: +852 3428 2361, Email: tleung@yuantung.com.hk
Agnes Yiu, Tel: +852 3428 5690, Email: ayiu@yuantung.com.hk
Hing-fung Wong, Tel: +852 3428 3122, Email: hfwong@yuantung.com.hk
HKTDC Communications & Public Affairs Department:
Katy Wong, Tel: +852 2584 4524, Email: katy.ky.wong@hktdc.org
Snowy Chan, Tel: +852 2584 4525, Email: snowy.sn.chan@hktdc.org
Sunny Ng, Tel: +852 2584 4357, Email: sunny.sl.ng@hktdc.org