Elevate Your Wellness: Discipline Industries Unveils NAC, NMN & Taurine
Discipline Industries, a leading innovator in the health and wellness industry, is proud to announce the launch of its new product line featuring N-acetylcysteine (NAC), Nicotinamide Mononucleotide (NMN), and Taurine. This revolutionary product line is poised to revolutionize the way individuals approach their health and well-being.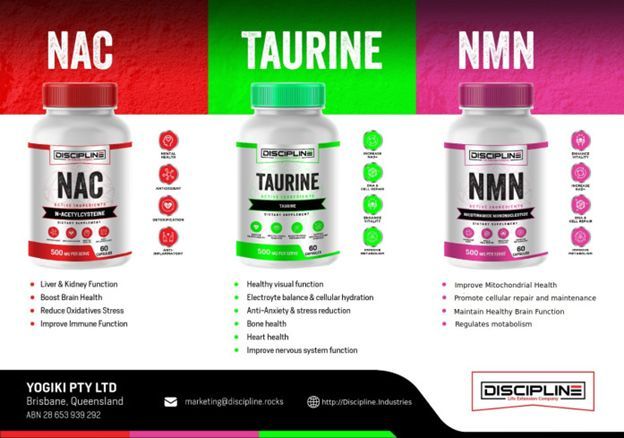 In an era where the pursuit of a healthier and more vibrant life has become a top priority for many, Discipline Industries is at the forefront, offering science-backed solutions that cater to a wide range of wellness needs.
NAC, NMN, and Taurine are three distinct supplements that have gained significant attention in the world of health and wellness. These products have been meticulously formulated by Discipline Industries to deliver the highest quality and purity, ensuring customers have access to the very best supplements on the market.
N-acetylcysteine (NAC) is a potent antioxidant that plays a crucial role in supporting respiratory health, liver function, and detoxification. NMN is an essential precursor to nicotinamide adenine dinucleotide (NAD+), a coenzyme involved in cellular energy production and the aging process. Taurine, on the other hand, is known for its role in supporting cardiovascular health, cognitive function, and overall vitality.
Discipline Industries' Chief Marketing Officer Suman Sandhu expressed enthusiasm about the new product line, stating, "At Discipline Industries, we're committed to delivering products that enable individuals to take control of their health and achieve their wellness goals. Our NAC, NMN, and Taurine supplements are meticulously crafted to provide the highest-quality ingredients, ensuring that our customers can achieve optimal health and vitality."
Discipline Industries' NAC, NMN, and Taurine products offer several key benefits to consumers:
Superior Quality: All products are manufactured using state-of-the-art processes and adhere to strict quality control standards.
Scientifically Formulated: The supplements are designed based on the latest scientific research to provide the most effective results.
Comprehensive Health Support: These supplements offer a wide range of potential benefits for various aspects of health and wellness.
Transparency and Trust: Discipline Industries is committed to transparency, ensuring that consumers have complete access to information about the products they are using.
Discipline Industries' new product line is now available for purchase on the company's official website https://Discipline.Industries and through authorized retail partners. The company encourages customers to explore the range of offerings and take the first step toward achieving their health and wellness goals.
For further information about Discipline Industries and its new NAC, NMN, and Taurine product line, please visit https://Discipline.Industries or contact Suman Sandhu at marketing@discipline.rocks.
About Discipline Industries:
Discipline Industries is a forward-thinking company dedicated to providing innovative solutions in the health and wellness sector. With a strong commitment to quality and customer satisfaction, Discipline Industries produces cutting-edge products that empower individuals to take control of their health and well-being.
Contact Information
Suman Sandhu, Marketing Manager, sales@discipline.rocks, +61731068912