As the UAE prepares to host the COP28 Summit later this year, the Future Sustainability Forum is poised to serve as the ideal platform for global sustainability leaders and innovators. They will assess emerging technologies while exploring avenues for cooperation to enhance capital flow toward sustainable financing.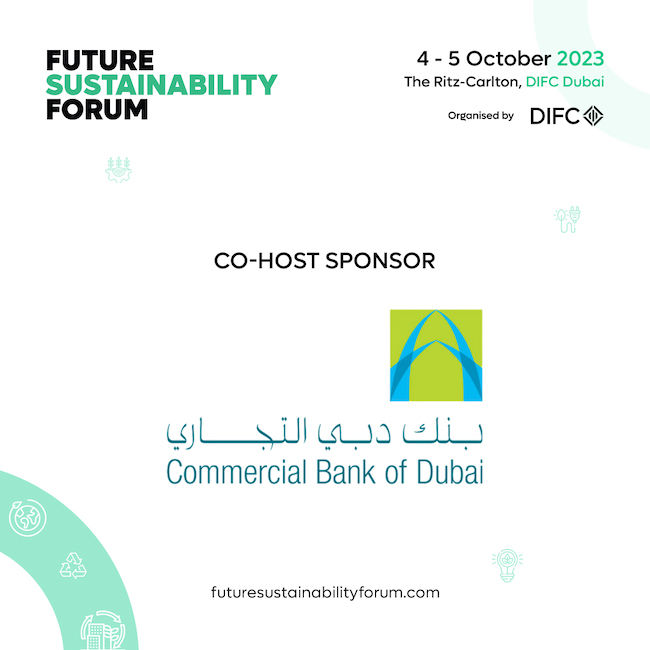 The forum co-hosted by the Commercial Bank of Dubai will invite eminent leaders from the public and private sectors to engage in ground-breaking discussions on sustainability's impact on the global financial market.
The  collaboration will further invigorate the regional innovation ecosystem, propelling industrial sectors towards adopting ESG measures and steering the region towards a low-carbon and climate-resilient future.  The collaborations further establishes a longstanding partnership between CBD and DIFC to promote innovation in the region.
As one of the longest established financial institutions in the United Arab Emirates, Commercial Bank of Dubai plays a pivotal role in reshaping the regional financial sector, especially with the increasing demand for sustainable financial instruments. Commercial Bank of Dubai's dedication to the UAE's pursuit of a climate-neutral economy and the adoption of ESG policies is underscored by its sustainable financing framework. The successful issuance of its inaugural green bonds further reflects the growing confidence of investors in the financial sector's transition toward a greener future.
Commenting on the partnership with DIFC, Dr. Bernd van Linder, Chief Executive Officer of Commercial Bank of Dubai said: "Commercial Bank of Dubai is proud to co-host the Future Sustainability Forum, a platform that aligns perfectly with our commitment to sustainability and responsible finance.
As a longstanding financial institution in the UAE, we recognize the importance of driving the transition towards a greener future. Our sustainable financing framework and the successful issuance of our inaugural green bond demonstrate our dedication to supporting the UAE's journey towards a climate-neutral economy.
Through collaboration with the Dubai International Financial Centre, we aim to highlight the future of sustainable finance, furthering our collective mission to promote sustainable and responsible financial practices in the region."
With the pivotal COP28 Summit on the horizon, the forum will underscore the shared commitment and efforts aimed at showcasing UAE's unwavering dedication to advancing the United Nations Sustainable Development Goals.
By nurturing a sustainable and innovative ecosystem, the Future Sustainability Forum encourages collective action against climate change and mobilizes towards this critical cause. To learn more about this event and to secure your registration, please visit: www.futuresustainabilityforum.com.
About Trescon
Trescon is a pioneering force in the global business events and services sector, driving the adoption of emerging technologies while promoting sustainability and inclusive leadership. With a deep understanding of the realities and requirements of the growth markets we operate in – we strive to deliver innovative and high-quality business platforms for our clients.
For media inquiries and further information, please contact:
Shadi Dawi
Director, Public Relations & Partnerships – MENA
shadi@tresconglobal.com
+971 55 498 4989