Dignitaries and Ministers to Witness Ground-breaking EV Launch Aimed at Transforming the ASEAN Mobility Landscape
Artroniq Berhad (Artroniq), a prominent figure in the ACE Market, proudly announces its upcoming official launch of an innovative range of electric motor products in collaboration with its wholly-owned subsidiary, Artronic Itech Sdn. Bhd in Kuala Lumpur in the fourth quarter of 2023.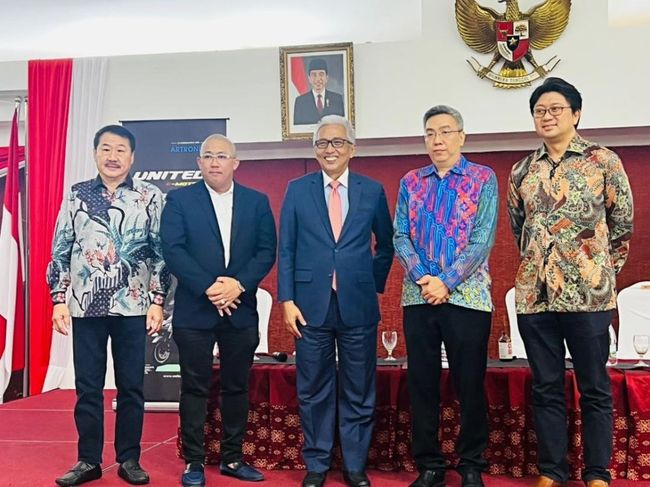 This significant advancement follows a strategic Distribution Agreement with Indonesia's esteemed United Motors parent company, PT. Terang Dunia Internusa. The announcement ceremony took place at the Embassy of Indonesia in Malaysia, graced by notable dignitaries including Bapak Budihardjo Iduansjah, Chairman of ATEC (Asian Trade, Tourism and Economic Council) cum Chairman of HIPPINDO Indonesia Retail & Tenant Association; Yang Berhormat Senator Jaziri Alkaf Dr. Abdillah Suffian, Member of Parliament; Bapak Andrew Mulyadi, Director of PT. Terang Dunia Internusa; and hosted by Guest of Honour, His Excellency (H.E.) Dato' Indera Hermono, Ambassador Extraordinary and Plenipotentiary of the Republic of Indonesia to Malaysia.
The imminent launch promises to be a momentous event in ASEAN's landscape, strengthening Malaysia's deep-rooted partnership with Indonesia. Both nations remain united in their mission to foster sustainable economic growth in the ASEAN community.
As the exclusive distributor for PT. Terang Dunia Internusa's state-of-the-art electric motor products, Artronic Itech Sdn Bhd champions a shared vision of sustainability. This is evident in their collective commitment to the tenets of Environmental, Social, and Governance (ESG) principles.
Mr. Marcus Chin Choon Wei, CFO of Artroniq, stated, "Our partnership is not just about business; it's about shared values, especially in sustainability. This aligns perfectly with our commitment to Environmental, Social, and Governance (ESG) principles, as both companies aim to reduce environmental impact and improve the quality of life for our stakeholders."
"The upcoming event represents the culmination of our partnership, where we will unveil innovative electric motor solutions to meet the growing demand for sustainable transportation."
At the launch, the public will have the opportunity to test drive both TX-series models such as the TX3000, which features a maximum speed of 90kmph and above. These electric bikes also serve as the official bikes of G20, having been tested and endorsed by world leaders during the 2022 G20 summit.
Artroniq Bhd: 0038 [BURSA: ARTRONIQ] [RIC: ARTR.KL] [BBG: ARTRONIQ:MK], https://www.artroniq.com/