Leading Edges of Logistics & Energy Segments Become Prominent
Q2 Results Recorded Significant Rebound
China International Marine Containers (Group) Co., Ltd. (CIMC Group or the Group, stock code: 000039.SZ/02039.HK) is pleased to announce the unaudited interim results for the six months ended 30 June, 2023 (the Reporting Period).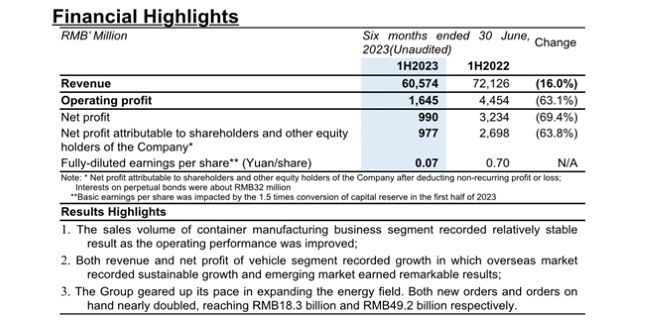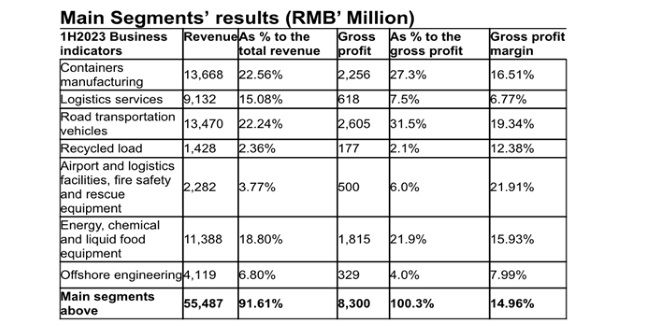 The management of CIMC Group said, "In the first half of 2023, the growth momentum of global economy and trade weakened. However, with the accelerated recovery of the global container market, prosperous demand for energy consumption and improving market environment for offshore marine engineering, the Group fully utilized its global leading position in the logistics field, diversified layout in the energy sector, and diversified financing channels to accelerate the cultivation of "specialization, expertise, and innovation" in businesses, while continuously optimizing its business structure during the Reporting Period. With the solid foundation of its global operating platform, the Group can mitigate risks and fluctuations in a single region and achieve stable and high-quality development. During the Reporting Period, domestic and overseas businesses contributed 51.61% and 48.39%, respectively, to total revenue, maintaining a level similar to that of the corresponding period of last year and an optimal market distribution. Although the overall performance was down from the corresponding period of 2021-2022 but still outperformed the pre-pandemic period, especially the brilliant results of CIMC Vehicles and CIMC Enric. Overcoming the impact of global trade downturn, the container manufacturing segment recorded a net profit beyond RMB700 million; offshore engineering business saw continuous loss narrowing. Offshore engineering asset pool management realized more than 10% revenue growth and a significant improvement in operating contribution margin."
A review of the main businesses is as follows:
In the container manufacturing business, as the growth momentum of global economy and trade slowed down and the demand in the container shipping market weakened, the production and sales volume of the container manufacturing business declined from the same period last year. In particular, the accumulated sales volume of dry containers reached 263,100 TEUs (same period in 2022: 675,000 TEUs), representing decreased of approximately 61.02% year-on-year (YoY) . The accumulated sales volume of reefer containers reached 51,500 TEUs (same period in 2022: 68,400 TEUs), representing decreased of approximately 24.71% (YoY). However, the profit level remained stable owing to effective cost control. During the Reporting Period, the container manufacturing business recorded a revenue of RMB13,668 million (Same period of 2022: RMB22,768 million), decreased by 39.97% (YoY) and a net profit of RMB768 million (Same period of 2022: RMB3,053 million)
In the road transportation vehicles business, following the full implementation of "Light Tower Manufacturing Network 2023", the domestic market has been strengthened, the overseas market continued its growth trend, and the emerging market achieved remarkable performance by recording revenue and net profit growth. The revenue increased by 20.31% YoY to RMB13,470 million (Same period of 2022: RMB11,196 million); net profit grew 410.91% YoY to RMB1,892 million (Same period of 2022: RMB370 million).
In the energy, chemical and liquid food equipment business, it recorded a revenue of RMB11,388 million, up 18.96% YoY (Same period of 2022: RMB9,594 million); net profit of RMB435 million (Same period of 2022: RMB468 million). The core business of CIMC Enric experienced significant growth in order demand due to the prosperous industry environment. Generally, for clean energy business, the growth in demand was mainly driven by the pick-up in consumption of onshore LNG, the ship newbuilding price hike attributable to the growth in demand on LNG/LPG vessels and the speed up in the implementation of the green hydrogen business, under which CIMC Enric's market-leading advantage has been further leveraged and therefore resumed growth in segment results. The chemical and environment segment recorded strong operating performance and a high level of industry demand as with standard tank containers return to balanced demand and specialized tank containers received the thriving demand from new energy and semiconductor industries. For the liquid food equipment segment, it saw satisfactory and stable progress in development, largely supported by rich professional experience, diversified business layout and one-stop total solution.
In the offshore engineering business, the global market environment for shipping and offshore engineering continued to improve, and therefore the new orders received by the Group's offshore engineering segment have successively entered construction stage. During the Reporting Period, the revenue increased by 60.41% YoY to RMB4,119 million (Same period of 2022: RMB 2,568 million); the number of new orders recorded a YoY growth of 144% to USD1,490 million (Same period of 2022: USD610 million); accumulated orders on hand amounted to USD5,110 million, up 141% YoY (same period of 2022: USD2,120 million), in which the ratio between oil and gas business and non-oil and gas business maintained at 4:6, which effectively eased the periodic fluctuation of oil and gas and demonstrated a successful strategic transformation.
The finance and asset management business is mainly engaged in the centralized management of funds for the Group and the offshore asset pool management platform through diversified means of financial service and special asset management mode. During the Reporting Period, it realized a revenue of RMB802 million (same period of 2022 including CIMC Finance Lease: RMB1,150 million). Benefitting from the recovering market, the Group acquired two new lease contracts for offshore drilling platform for its offshore engineering asset operation. By the end of June of 2023, out of the existing 14 leasable offshore engineering platforms, the Group acquired lease contracts for 10 platforms, on which six jack-up platforms were leased out, four semi-submersible offshore platforms (including 2 living platforms) were leased out, and the remaining term of the lease contracts ranged from 7-74 months.
Outlook and future development
Logistics Segment
In the container manufacturing business, according to CLARKSONS' forecast, global container trade growth rates for 2023 and 2024 are projected at 1.0% and 3.4%, respectively. Market expectations show a clear upward trend, indicating a steady recovery in global trade that will provide robust support for the accelerated resurgence of industry demand. By 2024 and 2025, Drewry anticipates global container production to return to a level of 4 million TEUs.
In the road transportation vehicle business, the global automotive industry is poised for an upswing in China's commercial vehicle market. China's strategy to expand its commercial vehicles overseas is gaining momentum, particularly in emerging markets such as semitrailers with significant growth potential. Simultaneously, backed by policy support, China's new energy light truck market is ripe for exploration. CIMC Vehicles is focusing on strengthening the "National Unified Commercial Vehicle and Special Vehicle Large Market." By entering the new energy commercial vehicle sector with innovative technology and business models, the Company aims to achieve intrinsic growth driven by innovation and steady performance improvement.
Energy Segment
In the energy, chemicals, and liquid food equipment business, the International Energy Agency (IEA) forecasts that by 2030-2035, LNG will replace coal as the world's second-largest energy source. The drive for energy decarbonization continues to garner market attention and support. Coupled with the acceleration of ship-to-ship transfer demand and green shipping upgrades, China's burgeoning hydrogen energy sector is experiencing robust commercial development. CIMC Enric leveraging its clean energy leadership and technological advantages, will further enhance its comprehensive "production-storage-transportation-refueling-application" layout and integrated solutions. This strategic move will propel its business to achieve steady and rapid growth. Additionally, CIMC Enric will closely monitor changes in demand and application scenarios in the chemical tank container market, seize opportunities in the global craft brewing and emerging beverage consumption and industrial transformation, and continue to enhance its market share.
In the offshore engineering business, the global FPSO market is witnessing an evident upswing trend in the cycle, with accelerated transformation towards carbon neutrality in the global marine equipment sector. The new energy vehicle industry is driving the expansion of global automotive shipping trade volume, while strong demand for new-build ro-ro ships persists. In the latter half of 2023, the Group will actively promote business transformation and the introduction of strategic investors, expedite industrial breakthroughs, and expand gradually into new energy, based on the fundamental prospects of marine oil and gas. This approach aims to establish a combination that stabilizes the cycle.
Financial and Asset Management Segment
The offshore engineering asset pool management platform will continue to promote lean management, leveraging existing project experience and business capabilities. This strategy will seize market opportunities to enhance asset occupancy rates and project profitability. The Group will further solidify cooperation with domestic and international clients, leveraging its excellent marine platform operation and management capabilities to integrate resources and enhance upstream and downstream cooperation.
The Group's management concludes, "We will continue reinforcing our global layout strategy, with research and development centers and manufacturing bases distributed across nearly 20 countries and regions worldwide. With over 30 overseas entities, our primary focus is on Europe, the Americas, and Southeast Asia. On one hand, we will establish a strong domestic presence and expand our industrial layout in the domestic market. On the other hand, through local manufacturing overseas, we will seize the evolving market space in global logistics and energy sectors, creating a dual-engine development strategy for our Group driven by both domestic and international demand."
About China International Marine Containers (Group) Co., Ltd.
The CIMC Group is a world leading equipment and solution provider in logistics and energy industries, and its industry cluster mainly covers logistics and energy fields, strengthening its position as a global market leader. In the logistics field, the Group still adheres to taking container manufacturing business as its core business, based on which to develop road transportation vehicles business, airport facilities and logistics equipment/fire safety and rescue equipment business and to a lesser extent, logistics services business and recycled load business providing products and services in professional field of logistics; in the energy field, the Group is principally engaged in energy/chemical/liquid food equipment business and offshore engineering business; meanwhile, the Group also continuously develops emerging industries and has finance and asset management business that serves the Group itself. As a diversified multinational industrial group that shoulders the mission of global serving, CIMC has 3 listed companies and over 300 member enterprises in Asia, North America, Europe, Australia and others, and extensive customers and sales networks covering more than 100 countries and regions. During the year, the Group recorded a revenue of RMB141.54 billion, with gross profit margin remained at 15.28% and net profit attributable to shareholders of the Company after deducting non-recurring profit or loss of RMB4.28 billion. The Group was recognized by Fortune as one of the "China's Most Admired Companies 2022", and was ranked 84th in the Fortune 500 China 2022, an increase of 35 places over the previous year. For more information, please visit http://www.cimc.com