In today's hyper-competitive business landscape, providing a seamless and captivating customer experience is no longer a differentiator but a fundamental requirement. However, many organizations struggle to develop comprehensive and forward-thinking plans to enhance customer experience (CX). Recognizing this pressing need, the highly anticipated sixth edition of the Global CX Summit is set to bring together industry leaders and CX professionals from India for engaging discussions and insights into the future of CX.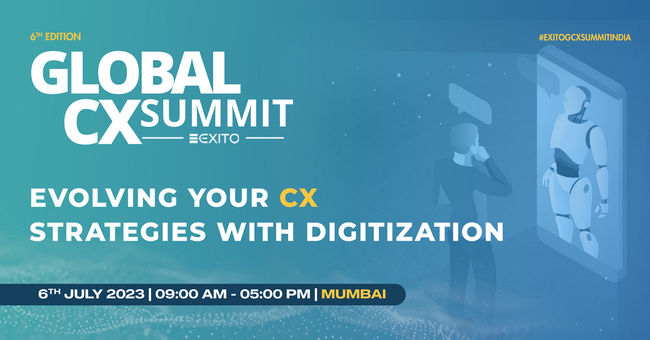 Scheduled to take place on 6th July 2023 in Mumbai, the Global CX Summit will serve as a global platform where CX enthusiasts, thought leaders, and experts converge to explore the most pertinent topics shaping the CX community. Attendees will gain valuable knowledge about the latest trends, best practices, and cutting-edge strategies that will empower businesses to thrive in the evolving landscape of customer-centricity.
The summit will highlight the pivotal role of digital tools, including websites, Mobile apps and chatbots, in expediting services, enhancing convenience, and driving customer satisfaction. With a particular emphasis on leveraging emerging technologies, such as the metaverse and augmented reality (AR), attendees will learn how to create accelerated and immersive customer experiences that captivate and delight.
Get ready to hear from these Industry Experts at the Global CX Summit-
– Shweta Srivastava Chief Customer Experience Officer, Tata CLiQ
– Dharmender Narang Sr. Vice President & Chief Customer Experience Officer, IIFL Securities Ltd.
– Ankit Goenka Senior Vice President & Head Customer Experience, Bajaj Allianz General Insurance.
– Satpreet Chelawat Senior Vice President & Head Customer Obsession (SPARSH) Axis Bank
– Aalok R Pradhan Director – Customer Success, CoinDCX
– Nilesh Borgharkar Sr. Vice President Customer Support & Service People Interactive, Shaadi.com
– Jayant Jain VP – Marketing & Customer Services, Head Loyalty & Shopper Insights, Reliance Retail Ltd
– Vipin Gupta, CTO, Tata Starbucks India
– Kumud Upadhyay, Senior Vice President, Motilal Oswal
The event agenda will focus on the following topics:
– Orchestrating a Holistic CX Strategy
– Building Phygital avenues to provide a truly omni-channel experience.
– Hyper-personalising the customer experience.
– How can Gamification help improve CX.
– How AI in the contact Center is leading today's silent CX revolution
– How is Conversational AI transforming Customer Experience
– The future of experiences is immersive.
Who can Attend?
The Global CX summit in Mumbai is open to top executives and leaders like CX Heads, Customer Relatons Heads, Customer Service Heads, Customer Loyalty Heads, Customer Operations Heads, Heads of Product Development and Innovation from a variety of industries, including Manufacturing Industries, BFSI, Retail & E-commerce, Hospitality, Travel & Tourism, Aviation, Telecom, Healthcare, Entertainment and E-gaming.
For more information on Global CX Summit, Mumbai, you can refer our website.
About Exito
We are a global B2B business events company focused on crafting bespoke solutions and contexts by designing platforms that create new business opportunities for our clients across concepts and industries. We cherish the trust over the last 12 years garnered from our partnering organizations globally, and with a growing team of young, vibrant, and creative individuals, Exito aims at success and perfection!
Contact: Mithun Gopinath,
Manager-Projects,
Exito Media Concepts
mithun.gopinath@exito-e.com