ONERHT Foundation Ltd, the corporate social responsibility vehicle of RHTLaw Asia LLP and the RHT Group of Companies (collectively, "ONERHT"), together with its co-organisers Chui Huay Lim Club and Ee Hoe Hean Club, has raised close to S$500,000 to promote health and wellness among disadvantaged and vulnerable members of our community.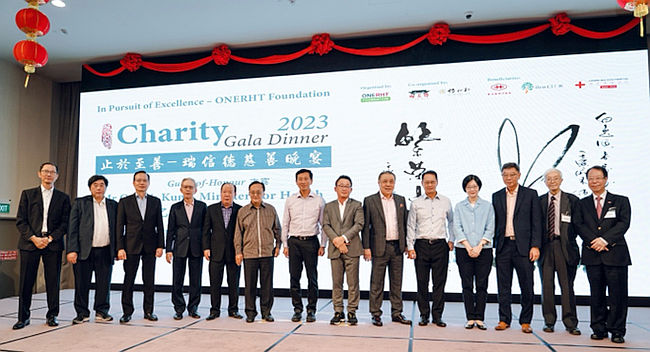 Guest-of-Honour Mr Ong Ye Kung, Minister for Health, (7th from left) onstage with Organising Committee members and advisors, generous donors and the esteemed artists at the event
The charity gala dinner held on 8th February 2023 was themed "In Pursuit of Excellence – ONERHT Foundation Charity Gala Dinner 2023" and attended by Guest-of-Honour Mr Ong Ye Kung, Minister for Health together with more than 400 guests.
Funds raised through the event will be used to support three local charitable healthcare institutions: Singapore Thong Chai Medical Institution, Ren Ci Hospital and Kwong Wai Shiu Hospital. Each with its own storied history of service to the community, these three institutions serve thousands of patients every month, regardless of background, race and religion. The funds will enable the three hospitals to expand their services and facilities to support the growing healthcare needs of an ageing population.
Ms Kaylee Kwok, Chairman of ONERHT Foundation, said, "Tackling the challenges of today's complex world requires the combined effort of various stakeholders from private and public sectors driven by a common purpose for good. We are inspired by the sense of purpose and dedication to selfless service demonstrated by local charitable healthcare institutions. We believe businesses can emulate their values by recognising our shared responsibility to deliver positive impact to the community and to think beyond profit."
Mr Ng Hoy Keng, President of Chui Huay Lim Club, said, "We hope to continue our collaboration with community groups to organise more cultural and charity events at the Chui Huay Lim Club, bringing vibrancy to the club while leveraging its modern facilities which are open to all."
Mr Aw Chye Wee, Chairman of Ee Hoe Hean Club, said, "Through its philanthropic members past and present, the Ee Hoe Hean Club has a long history of giving back to the community, including donations for the Tong Chai Medical Hall. It is our hope that we will be able to pass on this spirit of giving to the next generation."
The gala dinner marks the end of a three-day public exhibition of Chinese paintings and calligraphy artworks by Hong Kong artists Mr Alfred Cheung and Mr Wong Wai Ho. A successful silent auction of the artworks was held during the exhibition at the Chui Huay Lim Club between 6-8 February.
"This was a joint effort made possible by the effort of our co-organisers and the generosity of our donors, sponsors and esteemed artists," added Ms Kwok.
Since its inception in 2015, the Foundation has with the support of its donors and sponsors been able to raise more than S$4 million for more than 24 charitable organisations.
ONERHT Foundation Ltd
A Singapore registered charity and grant-making philanthropic organisation, ONERHT Foundation Ltd ("Foundation") enables RHTLaw Asia LLP and the RHT Group of Companies (collectively, "ONERHT") to do right and do good through various charitable endeavours.
Set up by ONERHT in 2015, the Foundation was registered as a Singapore charity by the Commissioner of Charities and a grant-making philanthropic organisation by the Inland Revenue Authority of Singapore on 16 September 2016 and 28 November 2016 respectively.
The Foundation seeks to establish, inspire and encourage the right philanthropic culture among the corporate and legal fraternity of giving back to the community in a focused, hands-on and meaningful manner. Since its inception, the Foundation has raised more than S$4 million to support more than 24 beneficiaries involved in education, the environment and sustainability, disadvantaged groups as well as the arts and sports. For more information, please visit www.onerht.foundation
For media enquiries, please contact:
Elliot Siow / elliot.siow@rhtgoc.com / +65 8375 0417