Return of in-person fairs to embrace opportunities upon border re-opening
As the first round of Hong Kong Trade Development Council (HKTDC) 2023 trade shows, the 49th HKTDC Hong Kong Toys & Games Fair, the 14th HKTDC Hong Kong Baby Products Fair and the 21st Hong Kong International Stationery and School Supplies Fair, jointly organised by the HKTDC and Messe Frankfurt (HK) Ltd, kick off today at the Hong Kong Convention and Exhibition Centre. The three fairs will run concurrently until 12 January and bring together more than 1,000 exhibitors to showcase a wide range of inspiring toys, quality baby products and creative stationery.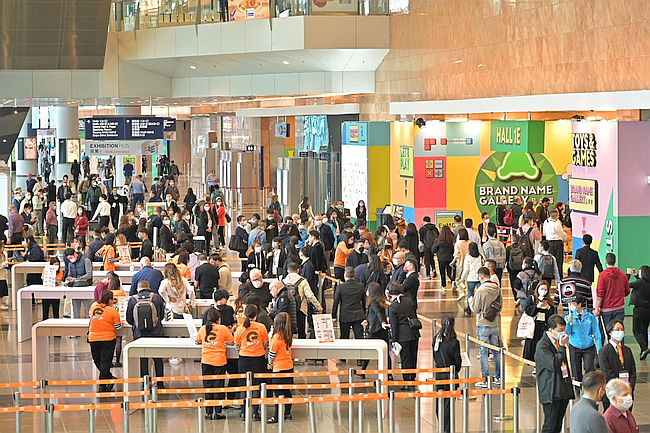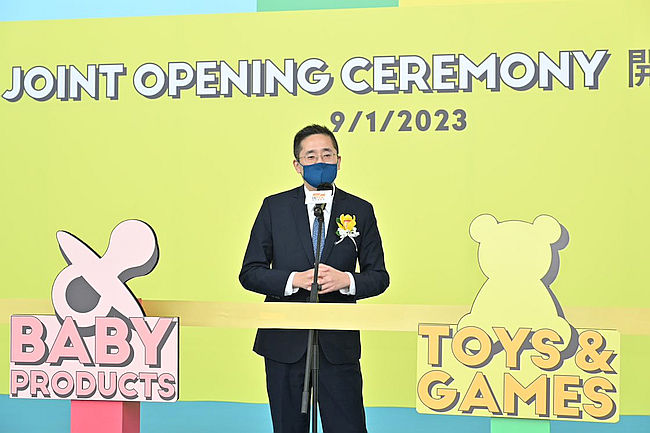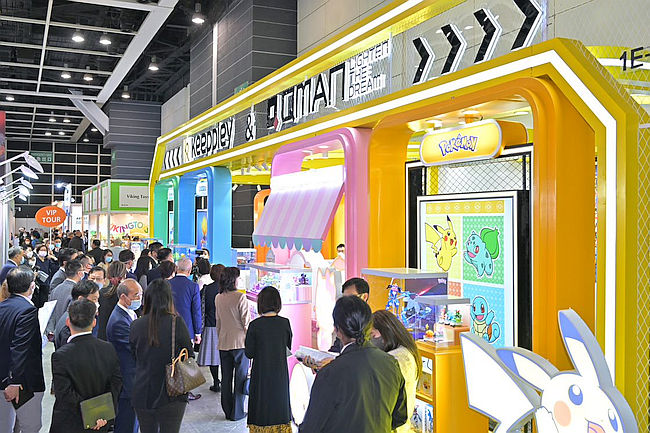 Sophia Chong, Deputy Executive Director of the HKTDC, said: "With the first phase of the resumption of quarantine-free travel between Hong Kong and Mainland China starting yesterday (8 January), Hong Kong's business travel is gradually returning to normal. The HKTDC continues to help companies seize opportunities, welcoming over 250 exhibitors from the mainland at the Toys & Games Fair. The Fair is supported by the Guangdong Province Department of Commerce's Cantonese Business Go Global programme, attracting over 120 exhibitors alone, and more than 1,000 representatives from Guangdong enterprises are expected to participate in the three fairs in-person."
Ms Chong added: "We are pleased to see that exhibitors at the three fairs are ready to showcase a wide range of uniquely designed toys products, quality and safe products for babies and children as well as personalised and eco-friendly stationery."
Hong Kong Toys Industry Conference 2023: latest trends and keys to success
The three fairs, themed Play To Bond – Family and Beyond, have attracted exhibitors from 17 countries and regions. One of the flagship events, the Hong Kong Toy Industry Conference 2023, opens tomorrow themed The Future of Play. Clifton Chiu, Research Analyst, Toys and Games of Euromonitor International will present the toy industry's key trends, while toy industry players will share how to succeed in the business. E-payment agencies and e-commerce companies will also discuss expanding your business through e-commerce. In addition, there will be seminars on smart toys and electronic games, baby products' market trends, the latest toy safety regulations, toy specifications, testing and certification and other topics.
The Hong Kong Toys & Games Fair and Hong Kong Baby Products Fair have various themed zones for easy sourcing. The highlighted Brand Name Gallery showcases branded products with eye-catching designs and innovative functions, featuring over 120 internationally renowned brands, including 4D Master, Eastcolight, Hape, KEEPPLEY, Ming the Minibus, Welly, Winfun and Marcus & Marcus. During the epidemic, school closures kept children at home for long periods, making educational toys a popular choice.
The Smart-Tech Toys zone presents toys and games that incorporate innovative technology, such as artificial intelligence (AI) and augmented reality (AR), allowing consumers to learn while having fun. Kidult World features products for grown-ups, such as model mechs and vintage Paper Cardboard Vending Machine, filled with childhood memories. This year, more than 100 exhibitors showcase green toys, and a special Green Toys label helps buyers identify and source eco-friendly toys, one of the most popular product categories in the industry.
The Hong Kong Baby Products Fair continues to receive support from the Korea Trade-Investment Promotion Agency and the Hong Kong Children, Babies, Maternity Industries Association, and once again has two pavilions, bringing diverse baby products to buyers. The popular Korea Pavilion showcases baby fashion, health and bath products, maternity products and more. The Strollers and Gear zone showcases strollers, car seats and bassinets. Other highlighted theme zones include Baby Bedding Items and Furniture and Feeding and Nursery Products.
Jointly organised by the HKTDC and Messe Frankfurt (HK) Ltd, the Hong Kong International Stationery and School Supplies Fair features the latest in creative art supplies, gift stationery, school and office supplies. The organisers continue to cooperate with renowned industry associations in different regions, including the Malaysia Stationery Importers and Exporters Association, the Federation of Stationers and Booksellers Association of Malaysia, the Taiwan Association of Stationery Industries, and the Thai Stationeries and Office Supplies Association, to promote the fair to their respective members.
The Hong Kong Toys & Games Fair, Hong Kong Baby Products Fair and Hong Kong International Stationery & School Supplies Fair run under the EXHIBITION+ hybrid model, which includes HKTDC-organised physical fairs, the smart business-matching platform Click2Match, online-to-offline seminars under the Intelligence Hub, and the hktdc.com sourcing platform. This extends face-to-face interactions from physical exhibitions to an online smart business-matching platform to help enterprises connect with business partners proactively. The Click2Match platform for the three fairs will be accessible until 19 January, allowing exhibitors and buyers to continue to conduct business discussions online after the physical show.
Fair Websites
– HKTDC Hong Kong Toys & Games Fair: http://hktoyfair.hktdc.com/
– HKTDC Hong Kong Baby Products Fair: http://hkbabyfair.hktdc.com/
– Hong Kong International Stationery & School Supplies Fair: http://hkstationeryfair.com/
– Photo download: https://bit.ly/3vOO1uA
About HKTDC
The Hong Kong Trade Development Council (HKTDC) is a statutory body established in 1966 to promote, assist and develop Hong Kong's trade. With 50 offices globally, including 13 in Mainland China, the HKTDC promotes Hong Kong as a two-way global investment and business hub. The HKTDC organises international exhibitions, conferences and business missions to create business opportunities for companies, particularly small and medium-sized enterprises (SMEs), in the mainland and international markets. The HKTDC also provides up-to-date market insights and product information via research reports and digital news channels. For more information, please visit: www.hktdc.com/aboutus. Follow us on Twitter @hktdc and LinkedIn.
Media enquiries
HKTDC's Communications & Public Affairs Department:
Clayton Lauw, Tel: +852 2584 4472, Email: clayton.y.lauw@hktdc.org
Kate Chan, Tel: +852 2584 4239, Email: kate.hy.chan@hktdc.org
Agnes Wat, Tel: +852 2584 4554, Email: agnes.ky.wat@hktdc.org